In Chef Life: A Restaurant Simulator, you will do well if you focus on these recipes.
The best thing about a recipe in Chef Life: Restaurant Simulator is how many plates it makes or how easy it is to prepare and serve. You want to use your time as efficiently as possible so that customers are happy. If you serve food quickly and get better at cooking, you will get more tips.
That's why it's important to use recipes that give you some breathing room instead of the most expensive ones. This list has the best recipes that are easy to make and serve. This lets you concentrate on cleaning the kitchen and doing challenges. The customers will get their food faster.
Meatballs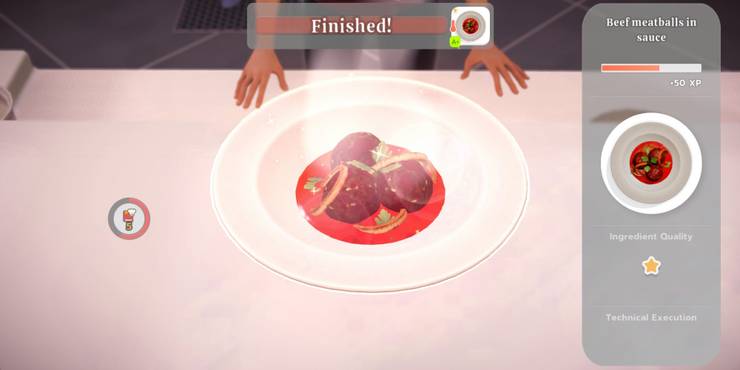 Low prep time
Three servings
$60
Meatballs are easy to make and give a lot of food when cooked. To make one round of meatballs, you only need to gather the ingredients and put them in a blender. At the Mixing Table, you have to roll the meat mush into meatballs after blending. You'll have what looks like three meatballs, but when the ingredients are cooked during service, you'll have three plates that you can put on the warmer. You can put the raw meatballs made at the Mixing Table in the fridge for when you open.
Meatballs sell for $60 at the base level and make several plates. This recipe makes a good amount of money with little work. Once you put the spices and ingredients on the stove, that's all you need to remember. Those are easy for your sous-chef to cut up quickly when you're busy.
Cacio E Pepe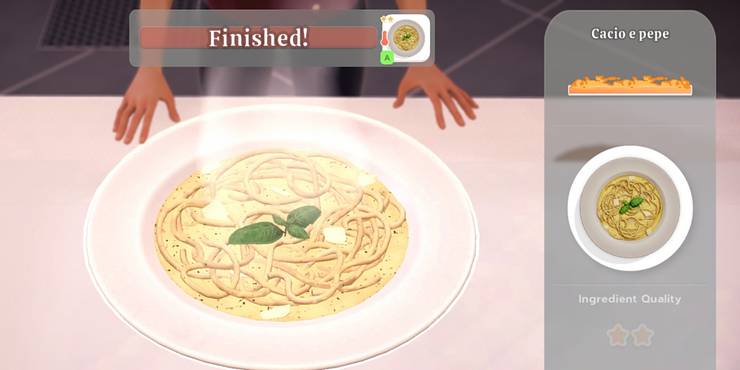 Medium prep time
Four sauces
$15
When you're done making the sauce, you'll have enough for four plates. The price for this recipe, $15, is low, but it can be made better. The best thing about this recipe is that you can make four sauces with it. You don't have to take the sauces out of the pot. Instead, you can put the whole thing on your warmer. If you take the sauces out of the pot and put them on the warmer, they won't be ready for service.
During business hours, the sauces can be taken out of the pot and put on the lower half of the warmer. However, the warmer can only hold three small bowls. All you have to do is cook four servings of spaghetti to go with it. When customers are actively asking for the meal, this can slow down the process for you. You will have to wait more than once for the spaghetti to cook. But making spaghetti is an easy thing to do. Most of the ingredients and time are put into making the sauce.
Summer Soup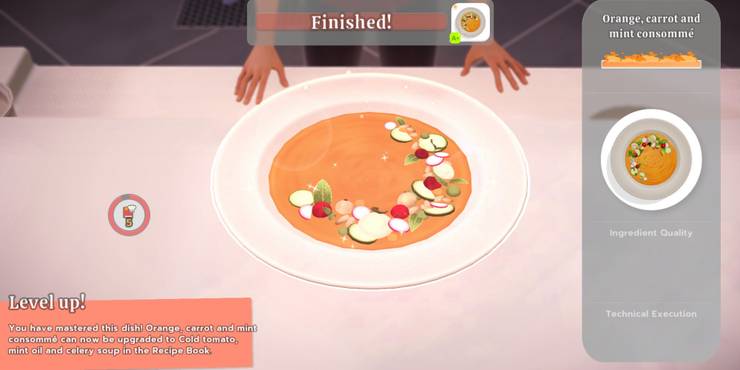 Long prep time
Three servings
$21
Summer Soup has a lot of different things in it, and it takes a long time to put together. This is a great thing to have on your menu if you have some room for change and are looking for easier recipes. Some of the soup's base ingredients, like an orange and carrots, need to be blended more than once. All of the ingredients have to sit in a tray on the Mixing Table for a while. During this time, you can only do other things while you wait for the soup to be ready to put away. After that, just put the tray in the refrigerator and you're done.
It takes a while to get ready, but once you do, it makes enough for three people. When it's time to serve, there's no more cooking to do. All you have to do is put cucumbers on top of the sauce you've already made. Even though it takes a long time to get ready, there is no cooking once the business is open. There's no need to heat it. Summer Soup before upgrades sells for $21.
Caprese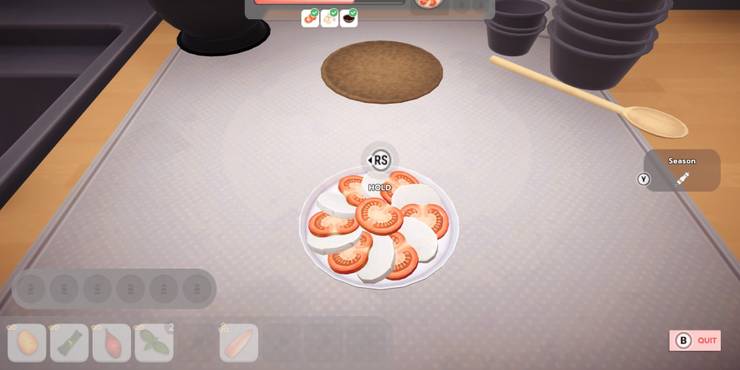 Lowest prep time
Level 2 yields three sauces
$66
Caprese might be one of the simplest recipes in Happy Wheels game. For Level 1 Caprese, you need three things. Two ingredients can be chopped right away, and the sauce can be made ahead of time and put in the fridge. Caprese doesn't require any cooking because the balsamic sauce has already been made at least three times and put in the fridge.
If you want to upgrade this bad boy, it will take one more step and cost $66 more. This step adds both a creamy sauce and a balsamic sauce. The second sauce is quickly mixed, and one blend makes enough for three servings. The only part of this recipe that will take longer is the balsamic sauce. It needs to be cooked three times to be the same amount as the other sauce you mixed. Once the tomato and mozzarella are cut up, this can be served right away.
Corsican Veal
Medium prep time
Three servings
$42
If you keep the raw ingredients in the fridge and cook this during service hours, it will make enough food for three plates. These can be put on the warmer in case a customer wants to buy them. You can't do a lot of prep work because everything goes into a pan at once.
Once something is cooked in a pan, it can't really be saved for later. For this recipe, you want your sous chef to chop up some extra ingredients. The ingredients are easy to find and only need to be chopped. Preparing is easy because you only have to chop up three things and put the rest in a pan. As long as your fridge is full, you're good to go. Corsican Veal is sold for $42 per pound.
Marinated Beef Carpaccio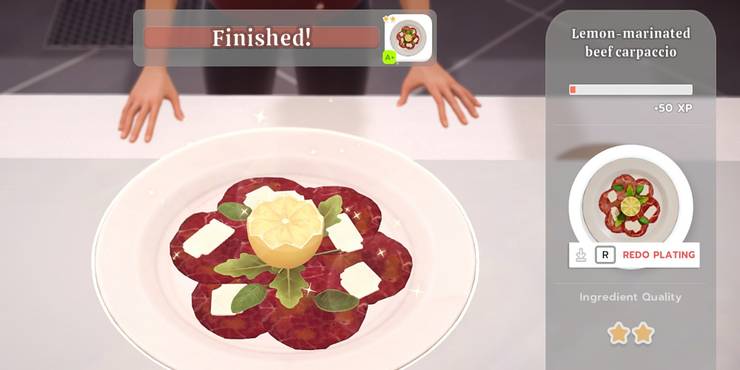 Medium prep time
Three servings
$36
For this recipe, all you have to do is cut up a few things, put them in a marinade, and put the finished product in the fridge. Most of your time will be spent marinating, since you have to leave it on the Mixing Table and wait for it to be ready to store. The recipes for Marinated Beef Carpaccio is great because it makes three plates at once.
Mix all of your ingredients together on the Mixing Table. After marinating, the food is ready to serve right away. When the recipe is done, it can be put in the fridge and served the next day. The price is also fair, coming in at $36.